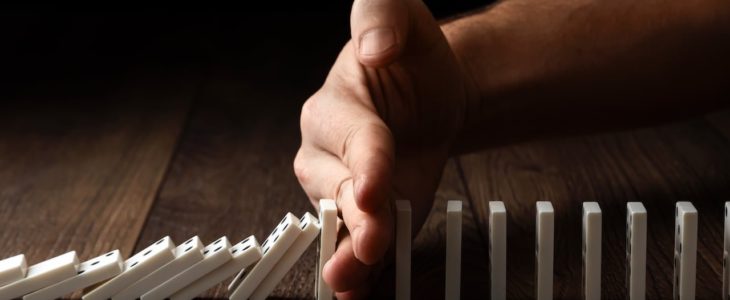 Governments and large corporations are not the only ones coming to terms with just how fragile our economies and societies really are…
The Covid-19 pandemic has caused huge changes in how we live and work. While most of us have come to terms (some better than others) with the basics like social distancing and remote working, we've yet to see all the full knock-on effects. The economic and financial dominos are still falling, and the real impact may not be felt for months.
One area we are all watching with keen interest is the impact on Investment in Banking Innovation and Fintech. That's because it's a unique enterprise, driven by a single axiomatic principle; the unshakeable confidence in future long-term profitability as a consequence of stable societies, and growing prosperity. And if we have learnt nothing else in the first six months of 2020 is just how fragile our economies and societies actually are.
Which means that maintaining any current investment strategy based on a set of entirely unknown factors is counter-intuitive. So the question is what changes, how much and when?
There have been as few such changes as dramatic as that brought about by Covid-19. It appears we have yet to discover just how fragile our society and economies actually are. But how has it changed Fintech. What does that mean for the future of the industry, and how will sentiment affect Investment in innovation and change?
Lenders are liquidating assets to free up capital
To understand the extent of the issues caused by the Pandemic it's important to see the scale of the financial impact on Banking Innovation and Fintech. In almost every industry, businesses are trying to cut costs as revenue is falling drastically.
Governments on every continent have intervened to ease job losses. Despite this potential unemployment rates of 25% or more are looming in major economies like the U.S and within the EU countries.
This has had a significant effect on investors in Banking Innovation and Fintech. Lenders are liquidating assets to free up capital as they try to ride out the effects of this pandemic. This is where the impact on Fintech is most keenly felt. Fintech companies can no longer rely on repeated rounds of funding to maintain long roads to viability during development. Especially as venture capitalists and other investors dwindle.
The dominos are still falling…
Despite this, before the pandemic, few Fintech's were operating in the black. Business may now find themselves vulnerable as substantive profits dwindle, and strong balance sheets capable of shoring up growth weaken. That's because most rely on yearly growth to attract further rounds of investment to sustain growth.
As investment is drying up, many Fintech companies find themselves in a vulnerable position as the impact of Covid-19 spreads. However, that is a broad brush. There are some Fintech companies coping better than others.
Sentiment is the common  view or opinion among groups that is susceptible to change.
How Banking Innovation and Fintech companies adapt and respond to change directly affects how well they endure the current situation; -and how their brand image is perceived.
As an example the CEO of Monzo, the Fintech banking app, has announced that he will not be taking his salary for 12 months. This is useful in practical financial terms and in how the brand is seen by current and future customers. It also helps control costs.
That said, many companies that were early into the Fintech sector and have amassed significant investment are better placed to ride out the issues than others. While newer organisations that are more reliant on investment flowing in will be the first to feel the effects. But there is more to it than that.
There is a rockier road ahead
Fintech companies built around face-to-face interactions or engagement are the most vulnerable. In fact, these business models have been on hold for months due to imposed lockdowns. As long as social distancing and other limiting factors remain in place, they will be prevented from pursuing any meaningful strategy for recovery as well.
By contrast, any Fintech company involved in Digital Banking or other virtual engagement will likely see a boost to operations as the shift to home working and shopping is part of our New Reality.
The problem for many business models is should the Covid-19 pandemic diminish (as a vaccine is developed or prevention methods reduce the virus' spread), there is no guarantee of a return to what we thought of as 'normal'.
In that context, Banking Innovation and Fintech companies focused on digital banking and other virtual services would seem to be in a strong position, but that is not the whole picture. The current crisis is the second major economic crisis in 13 years, and as before, regulators and governments will focus on business continuity provision and robust financial stability in the aftermath.
Crystal ball-gazing is not going to be helpful…
In this scenario, Fintech companies will be focusing on internal strength rather than investing in innovative approaches, which are by necessity a risk. It is here the lack of funding and weakness of the industry will impact innovation. Those Fintech companies with resources will be using them to build stability, rather than seeking to push boundaries through innovation, at least in the medium term.
It will only be the very few Banking Innovation and Fintech businesses that have the resources to both stabilize and innovate that will be pushing the industry forward. These will be businesses with a focus on the digital arena, that is sure to be the main benefactor from the pandemic, and whether that is banking or other services, they will be in a powerful position to dominate the market.
Its still early days. Too early, in fact, to fully appreciate the effect on innovation and investment; which lie at the heart of the Banking Innovation and Fintech industry. And that is the nub of the issue. We are all entering uncharted territory, and I challenge anyone to bet the family farm on what happens next…